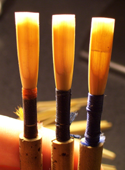 Reed Pros specializes in handmade oboe reeds for beginners to professionals. We're a company consisting of professional oboe, English Horn and clarinet players performing actively in our community. We stock items we use ourselves so we have confidence in recommending them to our customers. Our inventory of items is ever-expanding. Please check back with us often as new items are added regularly!
With 20 years experience in double and single reeds, we have the knowledge and expertise to take care of your music essentials. At Reed Pros, we know we'll have a reed you'll love.
How are Reed Pros oboe reeds different from other oboe reed makers online? At Reed Pros, each oboe reed is made from scratch as if I would make it for myself. I don't sell you my still-playable-but-not-up-to-my-quality-for-this-performance reeds. Reed Pros reeds are not like the oboe reeds you find at your local music store. Those are mass produced with inferior scraping techniques resulting in a squawky, nasal tone. No wonder beginning oboe players get such a bad rep! I make and sell reeds to you that I would play on. If I don't like it, I don't send it out. I want you to be happy with your reeds. I offer a Guarantee! so if you are unhappy, let me know!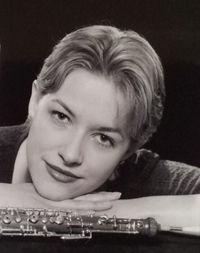 Biography
Tanya J. Johnson grew up in a close-knit community in South Carolina. She became interested in music at an early age by watching her sister practice the clarinet. When her new band director turned out to be an oboe player, she became very interested in learning the instrument. Keeping up her clarinet studies, Mrs. Johnson began taking lessons on oboe.
Her love for music and the instruments that create it led her to begin learning other instruments including trumpet, flute and bass guitar. She continued her music education by attending the Greenville County Fine Arts Center and The Governor's School for the Arts, studing AP music theory, chamber music, and conducting. She then furthered her studies at The University of South Carolina, earning her Bachelor of Arts degree in Music.
After completing her Bachelor's degree, she joined several orchestras and performing groups including Spartanburg Philharmonic Orchestra (Principal Oboe), Long Bay Symphony, South Carolina Philharmonic, Lawton Philharmonic, Columbia College Wind Ensemble, The Black Tie Chamber Players and The Palmetto Concert Band.
Having always known teaching is her passion, she set about building a teaching studio. Mrs. Johnson enjoyed a large private studio of oboists and clarinetists, as well as being the oboe instructor at Columbia College and Cameron University. Now living in Los Angeles with her husband and beloved cat, Mrs. Johnson continues to build her private studio and perform.