"Oboe reeds you can count on, guaranteed!"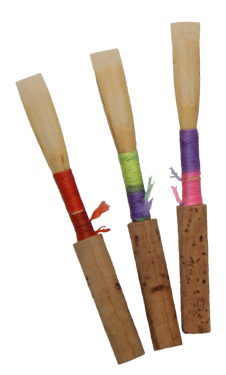 "What if the oboe reed sounds too bright?"
"What if the reed is too hard?"
"What if I don't like the reeds?"
Sound familiar? We've asked the same questions. All of these (and many more!) really come down to one basic question:
How can you tell if you will like the oboe reeds before you buy?
Well... the short answer is, you can't. You can't tell very much from looking at the picture whether or not you will like the reeds. Taking recommendations from other players on where they get their reeds can be helpful. However, after trying them, did you realize they weren't for you?
As oboe and clarinet players ourselves, we've been there, too. We want you to be happy with our reeds.
Guarantee:
Too hard? Too soft? Have the reeds arrived and you've played them only to discover they aren't quite right? Give us a call (or email) within seven days of receipt and let us know what's wrong. We'll work with you to get the issue corrected.
If the issue can't be resolved via phone, email or skype, mail the reed back and we'll fix it. If it can't be fixed, we will replace the oboe reed. It's that simple!
To help decide which oboe reeds to order, it is recommended as a first time buyer with us to check out our Oboe Reeds page and Frequently Asked Questions page. We try to give as much description as possible with the reeds to help your decision.
*Satisfaction ie Reed Return for replacement applies to Reed Pros Brand Superior Oboe Reeds. No Wait Oboe Reeds are a non-returnable and non-refundable item.