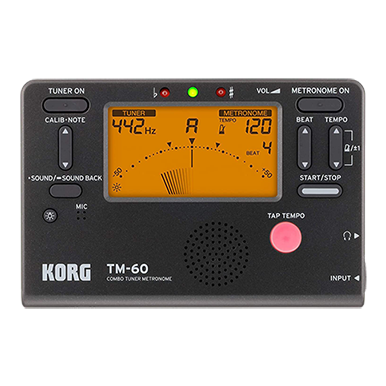 Korg Combo Tuner Metronome TM60

The Tuner and metronome can be used simultaneously or independently; you can practice your pitch and rhythm at the same time.
Large LCD with backlight brightness that's adjustable over two levels for enhanced visibility.
A wide tempo range of 30-252 beats/minute.
15 rhythm variations let you practice with a broad range of musical styles.
Newly designed stand and battery cover for enhanced usability.
Rhythm pattern: Duplets, triplets, triplets without the center beat, quadruplets, and quadruplets without the center beats.
Newly designed highly responsive LCD needle-type meter.
Easy tempo settings with two types of tempo step patterns plus a tap tempo function.
Calibration supports a range of concert pitches.
Wide detection range from C1 to C8.
The Sound Out function produces a reference tone in a three-octave range from the built-in speaker.
Marks indicate pure major and minor third intervals.
Memory Backup and Auto Power Off.
Two AAA Batteries included.
$31.99
Have any questions?
See Our FAQ page OR Email us at: reedpros@gmail.com
SHARE: