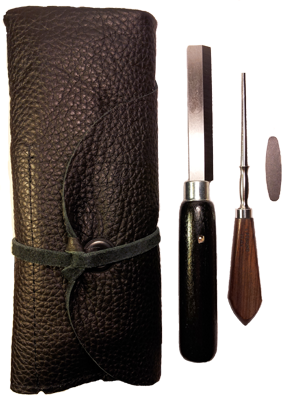 Oboe Reedmaking Kit - Right Handed

This is our Reed Making Adjustment Kit. If you are needing to scrape reeds already purchased from another source to your own liking, this kit is perfect.
Does this kit contain all the items you will need for reedmaking? Please see our Reedmaking Guide . Be sure to check with your oboe instructor for all required equipment, or give us a call! We can point you in the right direction for the items you will need or are missing for your next reedmaking lesson.
This kit contains:
Right or Left handed reed knife with one sided bevel.
French style mandrel.
Flat steel rounded ends plaque.
Leather tool pouch.
$84.99
Have any questions?
See Our FAQ page OR Email us at: reedpros@gmail.com
SHARE: