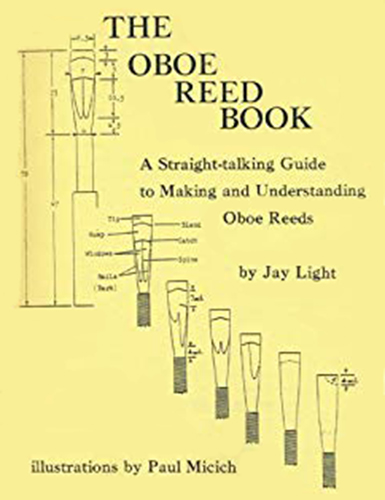 The Oboe Reed Book
By Jay Light

The Oboe Reed Book: A Straight-talking Guide to Making and Understanding Oboe Reeds by Jay Light. Includes illustrations by Paul Micich
A wonderful guide to oboe reed making. Includes useful information about tools, cane and other supplies, knife sharpening, tying blanks, knife techniques and scraping the reed. Good illustrations. There is one chapter on English Horn reeds. This book does not cover cane preparation before the shaping process. It also includes a handy trouble shooting chart to help track down reoccurring problems.
$30
Books and sheet music are a non-refundable and non-returnable purchase.
Please ask questions before ordering.
Have any questions?
See Our FAQ page OR Email us at: reedpros@gmail.com