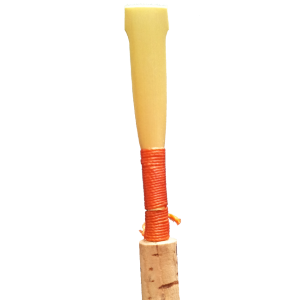 Oboe Reed Blank

A handy timesaver! 47mm staples are used, brass or silver. Fantastic for the student learning to scrape first or the busy professional.
Oboe reeds at Reed Pros are hand made with loving care from start to finish. Our oboe reeds are not like the reeds you find at your local music store. Those are mass produced with inferior scraping techniques resulting in a squawky, nasal tone. I make and sell reeds to you that I would play on. If I don't like it, I don't send it out. Reeds are play tested before leaving our shop to insure the proper strength and performance.
Why you should buy Reed Pros reeds? Please see our FAQ page
Wait times make forgetting to order worse. Join Reed Club today and receive reeds every month with less hassle.