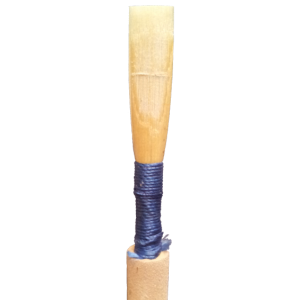 (Images are illustrative only and may differ from the actual product.)
Superior - Professional Oboe Reed

Oboe reeds at Reed Pros are hand made with loving care from start to finish. Our oboe reeds are not like the reeds you find at your local music store. Those are mass produced with inferior scraping techniques resulting in a squawky, nasal tone. I make and sell reeds to you that I would play on. If I don't like it, I don't send it out. Reeds are play tested before leaving our shop to insure the proper strength and performance.
The Superior oboe reed series are handmade by me, start to finish. I select the finest tube cane and gouge and shape it in house. Each reed is tied on as a blank (without profiling) and then the detailed scraping process begins. Each Superior series reed is worked on over a period of three days to allow the cane to settle and stabilize. The Superior reeds have a rich, dark sound.
Why you should buy Reed Pros reeds? Please see our FAQ page
Wait times make forgetting to order worse.
Join Reed Club
today and receive reeds every month with less hassle.
Reed Type: Professional
Made using premium cane.
Pro series 47mm silver staples.
This reed is made using only the highest quality materials.
These reeds are Medium Hard.
**The reed thread comes in a variety of colors and may not be the color shown in the picture.**
If you would like a less finished reed in order to due more fine tune scraping, no problem! Just request this at checkout or send us an email.
$30.35 each
WARNING! WAIT TIME
Current Wait Time is:
Have questions regarding the reeds?
Please email us at:reedpros@gmail.com
before placing an order.